TYPES OF SHOES FOR WOMEN
There are many types of women's shoes and here are the names and descriptions of many common and not so common types.
High heeled pumps (Court shoes)
There is a verity of high heeled pumps for women. Pumps are shoes for women which are low cut and closed in front and covered from the back without any fastening. Every woman has at least one pair of high-heeled pumps in her wardrobe. They are classy, sexy and can be worn with almost anything
Open toe shoe

— This is basically a pump shoe as described above where the front is cut away to expose all of the toes. When this is done to only expose the big toe or middle toes using a smaller cutaway it would be referred to as a peep hole shoe.
Wedge Shoe

— This is any type of
heeled footwear
where the there is no gap below the sole meaning the full length of the base of the shoe makes contact with the ground.
Gladiator sandals
that have a long history, inspired gladiator sandals worn in the days of Ancient Rome. Along with the development of this type sandals are designed to provide a chic look at the fashion connoisseur.
Ballet flats
These are pumps without heels. They are very feminine and very comfortable. They can be worn with most outfits. Though, avoid wearing flat pumps if you are dresses in a formal gown or a formal ankle length dress. They can be teamed with jeans, skirts, bubble dresses, capris, shorts and many more. They are the all time favourite with sundresses.
Stilettos:
Stilettos are the ultimate sexy shoes and can never go out of style. They go very well with sleek clothes like tailored pencil skirts or cigarette trousers or the classic pant-suit. There are different
New,pu,beads,flat heel,Women shoes summer sandals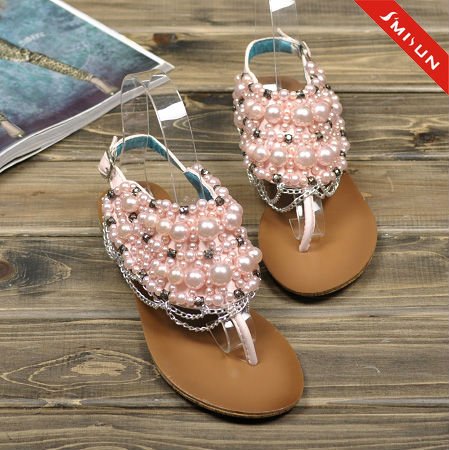 Sneaker boot
or sneaker pump
: a shoe that looks like an athletic shoe, but is equipped with a heel, making it a kind of novelty
dress shoe.